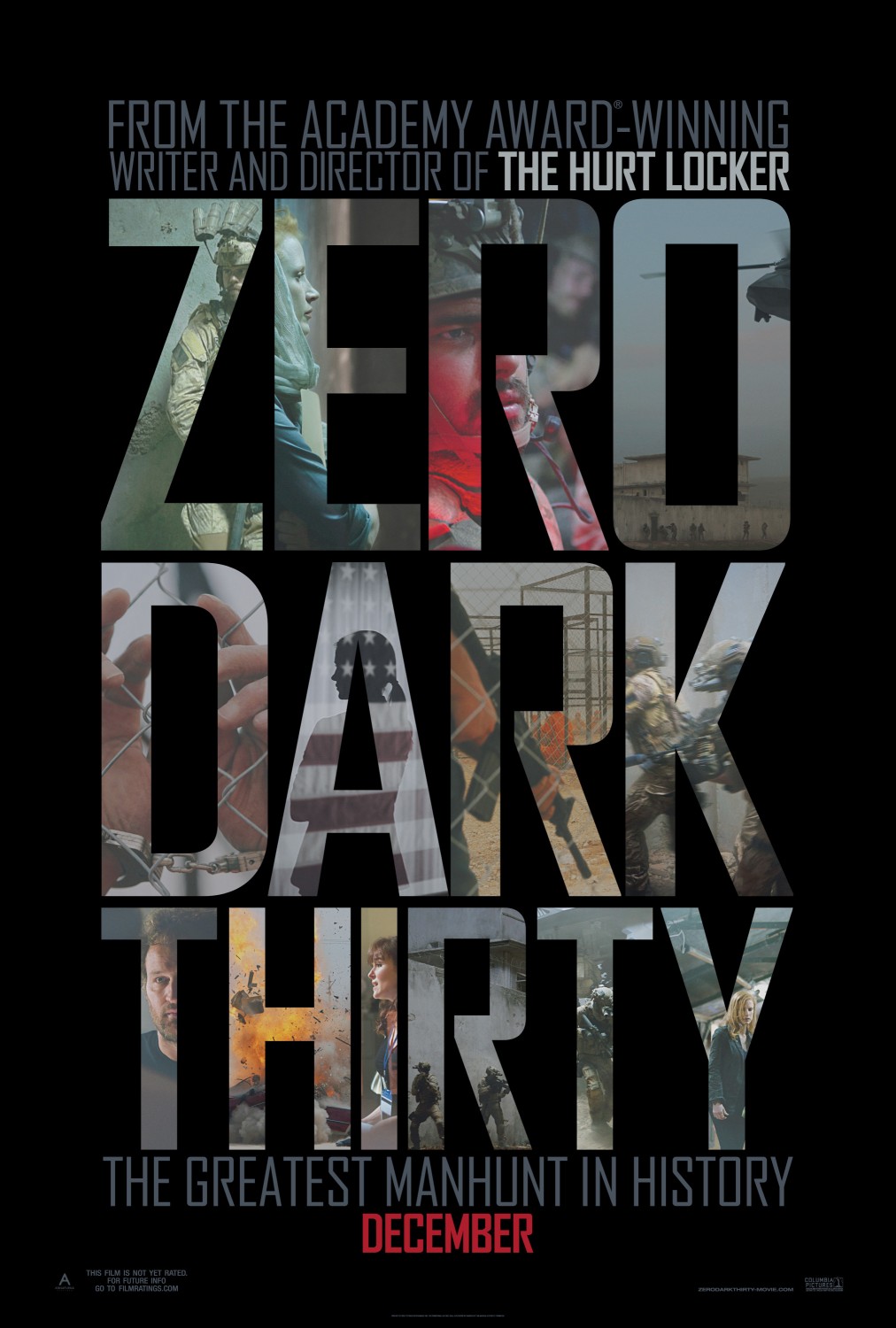 1. Zero Dark Thirty *****
Jessica Chastain, Jason Clarke, Joel Edgerton, Jennifer Ehle, Mark Strong, Edgar Ramirez, Chris Pratt. Directed by Kathryn Bigelow. For a decade, an elite team of intelligence and military operatives, working in secret across the globe, devotes itself to a single goal: to find and eliminate Osama bin Laden. Unlike too many films these days,
Zero Dark Thirty
dares to embrace complexity. And that makes it not just state-of-the-art entertainment, but a great film. One reason screenwriter Mark Boal makes such a potent combination with Bigelow is that her directing style moves us right along. She is so good with both action and creating a convincing look and feel for the film that the time it takes to get up to speed with the complicated plot does not feel like a problem.
2. Before Midnight *****
Ethan Hawke, Julie Delpy. Directed by Richard Linklater. This second sequel to the romantic drama
Before Sunrise
checks in with multinational lovers Jesse and Celine nine years after they reunited. Living in Greece, the couple struggles with emotions relating to parenthood, middle age and faded romance. Just as swoon-worthy, and essential, as its predecessors,
Before Midnight
reveals the full scope of Linklater's ambition. This is not just another stellar follow-up, but the latest entry in what's shaping up to be a grand experiment — the earnest attempt to depict the life of a relationship onscreen, decade by increasingly tumultuous decade. In the process of justifying its own existence,
Before Midnight
redeems the very notion of sequels. It surpasses the two previous films in this trilogy in terms of its intelligence, narrative design, and vivacity. It's a grand accomplishment, and I feel greedy about wanting to see this film series continue. Delpy and Hawke, who've invested this trilogy with the fine shadings of life lived, do extraordinary things with small moments.
3. The Master *****
Joaquin Phoenix, Philip Seymour Hoffman, Amy Adams, Jesse Plemons. Directed by Paul Thomas Anderson. Freddie, a volatile, heavy-drinking veteran who suffers from post-traumatic stress disorder, finds some semblance of a family when he stumbles onto the ship of Lancaster Dodd, the charismatic leader of a new "religion" he forms after World War II. Two things stand out: the extraordinary command of cinematic technique, which alone is nearly enough to keep a connoisseur on the edge of his seat the entire time, and the tremendous portrayals by Phoenix and Hoffman of two entirely antithetical men.
The Master
is not a schematic attack on a particular religion. It is a brilliantly conceived and powerfully realized work of art, with complex characters, exquisite images and ambiguously big ideas.
4. Django Unchained *****
Jamie Foxx, Christoph Waltz, Leonardo DiCaprio, Kerry Washington, Samuel L. Jackson, Don Johnson. Directed by Quentin Tarantino. Accompanied by a German bounty hunter, a freed slave named Django travels across America to free his wife from a sadistic plantation owner. The film doesn't play it safe, so neither will I. Instead, I'll say that it finds Tarantino perched improbably but securely on the top of a production that's wildly extravagant, ferociously violent, ludicrously lurid and outrageously entertaining, yet also, remarkably, very much about the pernicious lunacy of racism and, yes, slavery's singular horrors. It also has the pure, almost meaningless excitement which I found sorely lacking in Tarantino's previous film,
Inglourious Basterds
, with its misfiring spaghetti-Nazi trope and boring plot.
5. Silver Linings Playbook *****
Bradley Cooper, Jennifer Lawrence, Robert DeNiro, Jacki Weaver, Chris Tucker, Julia Stiles. Directed by David O. Russell. After a four-year stay in a psychiatric institution, former teacher Pat Peoples has no choice but to move back in with his mother. While he's trying in vain to reunite with his wife, Pat meets another woman fated to change his life.
Silver Linings Playbook
is rich in life's complications. It will make you laugh, but don't expect it to fit in any snug genre pigeonhole. Dramatic, emotional, even heartbreaking, as well as wickedly funny, it has the gift of going its own way, a complete success from a singular talent. For all its high-flying zaniness the movie has the sting of life, and its humor feels dredged up from the same dark, boggy place from which Samuel Beckett extracted his yuks.
6. Drinking Buddies *****
Olivia Wilde, Jake Johnson, Anna Kendrick, Ron Livingston. Directed by Joe Swanberg. Luke and Kate, workmates at a small Chicago brewery, are romantically involved with others but also the best of friends — on and off the clock. Things get complicated, however, when the couples spend a weekend together at a lakeside retreat. With dexterity and care, Swanberg illuminates our muddled perceptions of our own relationships. He fixates on the minutiae of hanging out, the stuff of little loves and lies, the feints and thrusts we make in sorting matters of head and heart. This nimble, knowing and altogether excellent new film, refuses to dance to the usual tune.
7. Argo ****½
Ben Affleck, Bryan Cranston, Alan Arkin, John Goodman, Victor Garber. Directed by Ben Affleck. In 1979, when Iranian militants seize the American embassy, six Americans slip into the Canadian embassy for protection, prompting the CIA to concoct an elaborate plot to rescue them by pretending that they are filmmakers rather than diplomats.
Argo
is a triumph. It has tension, sincerity, mystery, artistic responsibility, entertainment value, technical expertise, a narrative arc and a thrilling respect for the tradition of how to tell a story with minimum frills and maximum impact. Affleck easily orchestrates this complex film with 120 speaking parts as it moves from inside-the-Beltway espionage thriller to inside Hollywood dark comedy to gripping international hostage drama, all without missing a step.
8. Lincoln ****½
Daniel Day-Lewis, Sally Field, David Strathairn, Joseph Gordon-Levitt, James Spader, Hal Holbrook, Tommy Lee Jones, Jackie Earle Haley. Directed by Steven Spielberg. Focuses on the 16th President's tumultuous final months in office. In a nation divided by war and the strong winds of change, Lincoln pursues a course of action designed to end the war, unite the country and abolish slavery. Spielberg has never made a more sophisticated and less sentimental picture. He and writer Tony Kushner craft it like a historical thriller. It blends cinematic Americana with something grubbier and more interesting than Americana, and it does not look, act or behave like the usual perception of a Spielberg epic. It is smaller and quieter than that. The experience of watching Day-Lewis in this role is nothing less than thrilling. This is Lincoln. No need for a time machine, there he is.
9. Barbara ****½
Nina Hoss, Ronald Zehrfeld, Rainer Bock. Directed by Christian Petzold. A doctor working in 1980s East Germany finds herself banished to a small country hospital. Petzold handles personal, formal, and political concerns in such perfect balance, it's difficult, and not especially desirable, to separate one from the next. The movie is dense but never feels it, assembled with easy mastery and engrossing throughout. It's one terrific film, as smart, thoughtful and emotionally involving as just about anything that's out there.
10. Gregory Crewdson: Brief Encounters ****½
Directed by Ben Shapiro. This offbeat portrait of portrait artist Crewdson captures his oddly elaborate creative process while sharing details of his fascinating past. It is a rare thing to witness the creative process. But in this excellent documentary, Shapiro gives us fly-on-the-wall access over a 10-year period to an acclaimed artist as he envisions, designs and executes his surreal commentary on small-town American life in the form of an epic photo installation,
Beneath the Roses
. Crewdson and others (including Russell Banks and Laurie Simmons) speak eloquently about his project, but it's the on-set agonies — to achieve the fleeting expression here, dark kiss of light there, and the peculiar relief they bring our maestro — that fascinate.
11. Frances Ha ****½
Greta Gerwig, Mickey Sumner. Directed by Noah Baumbach. Determined to make it as a modern dancer in New York, Frances pursues her unlikely goal with more enthusiasm than natural talent. The rest of the time, she and her sardonic best friend, Sophie, put off growing up for as long as they can. The writing is so musical, so attuned to human frailty and aspiration, that I defy anyone to watch the movie without smiling — with amusement one minute, rueful recognition the next, but probably always with some measure of simple, undiluted delight.
12. Room 237 ****½
Directed by Rodney Ascher. A documentary that explores the various theories about hidden meanings in Stanley Kubrick's horror film
The Shining
. Unique and at times profound, it's a reminder of how much Kubrick left for us to appreciate in his work, and how the greatest films always leave something more to be discovered with each viewing.
13. Something in the Air ****½
Directed by Olivier Assayas. Growing up in the wake of France's civil crisis of May 1968, a teenager and his friends are determined to sustain the partisan passions of that era. This is a beautifully crafted work and an acute evocation of its period both in look and attitude, and it's no less deeply absorbing for being somewhat muted in tone.
14. Neighboring Sounds ****½
Directed by Kleber Mendoca Filho. A history of violence and oppression threatens to engulf the residents of an affluent seaside community. With his sound designer, Pablo Lamar, Filho has created the aural landscape of a horror movie. And, for much of its running time, a thriller without a plot. Filho's mastery of pacing, theme and stylistic eccentricity throughout is so assured as to be breathtaking.
15. An Overssimplification of Her Beauty ****½
Directed by Terence Nance. When the comely and intriguing Namik stands him up for a date, filmmaker Terence documents his confusion in a short film that he later shows to her. When Namik isn't impressed, Terence decide to turn the movie into a full exploration of his feelings. What saves the film — and grandly — is Nance's wildly ambitious visual imagination. Teetering somewhere between film school precocity and impressively assured audaciousness, it's almost hypnotic in its style and genre promiscuity.
16. Rust and Bone ****½
Marion Cotillard, Matthias Schoenaerts. Directed by Jacques Audiard. Put in charge of his young son, Ali leaves Belgium for Antibes to live with his sister and her husband as a family. Ali's bond with Stephanie, a killer whale trainer, grows deeper after Stephanie suffers a horrible accident. The narrative at the heart of
Rust and Bone
is a vehicle for sentiment and over-the-top histrionics if ever there was one, but Audiard and his two stars deliver the exact opposite: a film thrillingly raw and essential, life-affirming, sublime.
17. Wreck-It Ralph ****½
Voices of John C. Reilly, Sarah Silverman, Jack McBrayer, Jane Lynch, Ed O'Neill, Dennis Haysbert. Directed by Rich Moore. Wreck-It Ralph longs to be the good guy instead of the villain in an old-school video game. He sees his chance and sneaks into the arcade's newest game, a flashy first-person shooter. But in doing so, he unleashes a deadly enemy. Manages to be touching as well as silly, thrilling and just a bit exhausting. The secret to its success is a genuine enthusiasm for the creative potential of games, a willingness to take them seriously without descending into nerdy pomposity.
18. The Gatekeepers ****½
Directed by Droh Moreh. A documentary featuring interviews with all surviving former heads of Shin Bet, the Israeli security agency whose activities and membership are closely held state secrets. The interviewees have different personalities that suggest varying styles of leadership, but what's remarkable about the film is how they speak in one voice about the moral complexities of their former jobs and their extreme pessimism about the future. A documentary potent enough to alter how you see the world.
19. This is Not a Film ****½
Directed by Jafat Panahi. When the Iranian government banned Panahi from making a film for 20 years, he filmed this documentary that covers a day in his life. This is a compelling personal document, a quietly passionate statement of artistic intent, and an uncompromising testament to Panahi's belief in cinema. Against all odds, an unquenchable artist has made yet another piece of powerful art.
20. The Kid With a Bike ****½
Directed by Jean-Pierre Dardenne, Luc Dardenne. Abandoned by his father, a young boy is left in a state-run youth farm. In a random act of kindness, the town hairdresser agrees to foster him on weekends. A quietly rapturous film about love and redemption. It makes a powerful statement about the plight of unwanted children. But it also incorporates elements of melodrama, film noir, and even the fairy tale that engage our empathy and confirm the great compassion of the filmmaking brothers Jean-Pierre and Luc Dardenne.
21. Blackfish ****½
Directed by Gabriela Cowperthwaite. A documentary that examines the life of performing killer whale Tilikum — who has caused the deaths of several people while in captivity — and questions the safety and humaneness of confining these creatures. Cowperthwaite builds a portrait of an intelligent but profoundly traumatized animal who was taken from his family in the North Atlantic as an infant, and has been driven to anger, resentment and perhaps psychosis after spending his life in a series of concrete swimming pools.
22. No ****½
Gael García Bernal, Alfredo Castro, Antonia Zegers, Néstor Cantillana, Luis Gnecco. Directed by Pablo Larrain. An advertising executive comes up with a campaign to defeat military dictator Augusto Pinochet in Chile's 1988 referendum. Even if
No
is not the whole truth — and no film is — its pungent dialogue and involving characters tell a delicious and very pertinent tale. And the messages it delivers, its thoughts on the workings of democracy and the intricacies of personality, are just as valuable and entertaining — maybe even more so. A troubling, exhilarating and ingeniously realized film that's part stirring political drama and part devilish media satire. And it's that rare political satire that can sound the depths of irony as
No
does and still end on a note of ambivalent hope.
23. In the Family ****½
Sebastian Banes, Patrick Wang, Trevor St. John. Directed by Patrick Wang. When his domestic partner dies in a car accident, a man learns that their son has been willed to his partner's sister. Deliberate and marked by uncommon grace,
In The Family
manages to feel politically and culturally acute without ever resorting to melodrama, or having to wave banners for issues or causes, except perhaps in its quiet way for a renewed humanism in movies and a return to stories about everyday lives.
24. Searching for Sugar Man ****½
Directed by Malik Bendjelloul. Two South Africans set out to discover what happened to their unlikely musical hero, the mysterious 1970s rock 'n' roller, Rodriguez. All music documentaries are not created equal. Yes, some are formulaic. But some are beautiful, some are singular, some are marvels of storytelling. And some, like
Searching for Sugar Man
, are all three.
25. Upstream Color ****½
Amy Seimetz, Shane Carruth, Andrew Sensenig, Thiago Martins, Frank Mosley. Directed by Shane Carruth. A woman is abducted and hypnotized with material harvested from a flower. When she falls for a man, the two realize they have been subjected to the same process. Together, they search for safety as they struggle to reassemble their wrecked lives. It's all a neat trick. Or exercise. Or brain-teaser. Whatever you want to call it,
Upstream Color
is like nothing you've ever seen before. But once you have seen it, once isn't going to be enough. A romance, a thriller, and a science-fiction drama, it tantalizes you with an open-ended narrative about overcoming personal loss. It's lush, rhythmic, and deeply sensual, a film of exceptional beauty.