Ron Washington congratulating Tony La Russa for out-managing him in 2011 World Series
Let me get this out in the open right at the outset: I am not a huge Ron Washington fan. I know the overwhelming majority of baseball fans in this area as well as most if not all the area sportswriters think the former Texas Rangers manager walks on water, but I'm not that convinced. In fact, I'll go so far as to say the Rangers win the 2011 World Series if Washington hadn't completely bungled the pivotal Game 6.
Colby Lewis
For example, top of the fifth, Rangers up 4-3, two out, runner on third and Mike Napoli at the plate. For some reason I never understood, Cardinals manager Tony La Russa orders right-handed pitcher Fernando Salas to walk Napoli intentionally. Washington pinch hit David Murphy for Craig Gentry and Salas walks Murphy to load the bases. Next up for Texas is pitcher Colby Lewis. Washington had a lot of options at his disposal on the bench to possibly break the game wide open: left-hand hitters Mitch Moreland and Endy Chavez as well as the switch-hitting Esteban German. He also had a fresh bullpen. So what does Washington do?
Unbelievably, he let Lewis hit for himself.
(Curt Schilling twittered at that moment: "What in the hell is happening... Can't decide the worse move, Lewis hitting or Holland warming????") Lewis strikes out to end the inning.
Mike Adams
Now let's go to the bottom of the eighth inning. Rangers are ahead 7-4 and appear on their way to a world championship. Left-hander Derek Holland is now on the mound for Texas. First Cardinal up is switch-hitting Lance Berkman who hits signicantly better against righties than lefties. Holland retired him on a foul ball. Next up for St. Louis are three consecutive right-hand hitters, Allen Craig, David Freese and Yadier Molina and Washington has one of the best right-hand relievers in the business, Mike Adams, who established a solid reputation for retiring righties in the eighth inning all season.
Amazingly, Washington never even left the dugout
. So what does Craig do against Holland? He homers. After that he brings in Adams who retires Freese and Molina. I'm betting Craig doesn't hit a home run against Adams and the Rangers win Game 6 and the Series.
Earlier in that game the Rangers had runners on first and second, nobody out, again with Lewis up. The Cards sold out on the bunt and rushed their corner infielders toward the plate. When Washington saw this he should have waved off the bunt,
but he didn't
and Lewis bunted into a double play.
Neftali Feliz
OK, I'll grant you that Neftali Feliz, one of the game's great closers, blew the ninth inning of that game. But the Rangers were back in front in the 10
th
thanks to Josh Hamilton's two-run homer and the Cardinals had the bottom of their order due up. Send Feliz back out there. He was only 23 at the time had all winter to rest his young arm. If nothing else, bring in C.J. Wilson, one of the elite lefties in the league that year, as your reliever.
But, no. Washington summons 41-year-old Darren Oliver from the bullpen
. We all know what happened next.

Esteban German
Go back to Game 1 of the series which the Rangers lost 3-2. In the seventh inning, Texas had runners on first and second with two out and the next scheduled batter was relief pitcher Alexi Ogando. On the mound for St. Louis was lefty Marc Rzepczynski. Washington had two right-hand hitters on the bench: Yorvit Torrealba and, Matt Treanor plus the switch-hitting German. Torrealba had 108 hits during the regular season as well as four more in nine at-bats during the ALCS. He was tearing it up. Treanor didn't play much in the second half of the season due to injury and, in fact, had not a hit since the All-Star break. German had only 5 hits the entire season, only a total of 22 hits in three major league seasons and had not even been to the plate in 24 games. Obviously, Torrealba is the logical choice
but Washington pinch hits German
who promptly strikes out to end the threat. The Ranger never had another runner on base the rest of the game. Now I'll admit there's no guarantee that Torrealba gets a hit I that situation but you simply don't insert a pinch hitter into a pivotal moment in a World Series game who hasn't batted in almost a month.
I'm not saying any single one of those bad decisions cost the Rangers the Series but put them all together and the evidence is obvious.
Now back to the present. I, for one, am not all that sorry to see Washington leave as the Rangers manager.
But I'm still mystified by the timiing and the reasoning. The reason given for his resignation was "personal issues," but general manager Jon Daniels went out of his way to assure the world it was in no way drug related (Washington had admitted to using cocaine in his past).
So here's my theory.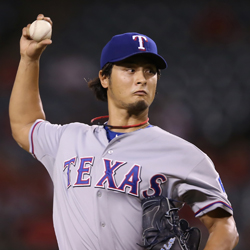 Yu know who

One month ago, the Rangers placed their valuable ace Yu Darvish on the 15-day disabled list because of right elbow inflammation. I thought to myself at the time, that's the last we'll see of Darvish this year. The Rangers were in last place in the American League West with the worst record in baseball so what good would it do to bring Darvish back to get, what, maybe two more wins. Not at the risk of further damaging that valuable right arm. Darvish ranks right up there with Clayton Kershaw as the best pitcher in the majors. The Rangers invested vast sums of money in him. Why risk this investment as well as his and the team's future by forcing him to pitch in meaningless games this year? And, then, a week or two into Darvish's rehab period, Daniels suggested much the same thing. Jon Daniels
Washington's reaction was quick, hot-tempered and wrong. He said if Darvish was cleared by team doctors he should be out there on the mound, whether or not he was pitching in games of no importance, (He did, a couple of days, later apologize after, I must believe, wiser voices whispered in his ear.) But I think the damage had been done. I know I was thinking at the time that had I been in Darvish's shoes I wouldn't be thinking too highly of Washington right about that time. In fact, I might have even gone to my agent and told him to inform Daniels that, after this season ends, either he goes or I go.
So Daniels is left to ponder: Lemme see. Who's more valuable to the Rangers future? Ron Washington, who bungled us out of the 2011 World Series, or Yu Darvish, runner up in last year's Cy Young voting? Hmm, Washington or Darvish? Darvish or Washington? To me, the choice was obvious.
I'm not going way out on this limb and declare that's what transpired, but until I get a better explanation …
By the way, the day after Washington's resignation, Daniels officially announced Darvish would not pitch again the rest of the year. Coincidence? You convince me.