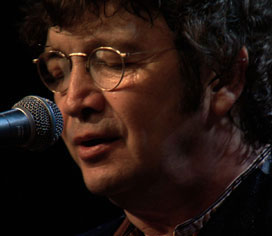 I heard
Shake Russell
sing long before there was a Poor David's Pub, back in the days of the Alliance Wagon Yard in Austin and a now-forgotten Dallas club on the east side Greenville Avenue just north of what is now SMU Boulevard. Back then, in the early 1970s, Shake had joined the late, great John Vandiver in a band called Ewing Street Times. I think my favorite Ewing Street Times was a brooding ballad called "Nobodys," but Shake was leaving his stamp on the band with a song he had composed called "Deep in the West," which is still his signature tune. (You can go
here
to listen to Shake sing "Deep in the West" as well as David Rodriguez's absolutely eloquent
"Ballad of a Snow Leopard
.")
Attending a Ewing Street Times show was always wonderful because loyal fans in the crowd would call out tunes, always original EST tunes, for the the band to play. "Deep in the West" was probably the most requested tune, along with Shake's "Temper Temper" and "Pretty As a Picture." I would always call for "Too Young to Date." Now, as far as I know, there's never been a song called "Too Young to Date," although it does sound like a legitimate song title, but whenever I called it out, I could see Shake smile because he knew that either my little brother or I were somewhere out there in the audience. And because it did sound like a legitimate song title, others in the crowd would go, "Yeah, sing 'Too Young to Date'."
After EST disbanded, Shake wandered around for a while, finding himself in Chicago, back home in Kansas City and eventually in the Montrose area of Houston where he joined another singer-songwriter from Kansas City to form the incredible Shake Russell-Dana Cooper Band. I first heard this ensemble, as I recall, at a Kerrville Folk Festival in 1977, 1978, sometime around there and returned to Dallas to insist that David Card, who had recently opened his original Poor David's Pub on McKinney, book the band into his establishment. David later told me it was the first time he had ever booked a band without hearing it first. But the Shake Russell-Dana Cooper Band quickly became a Dallas favorite and Poor David's was packed every time the band played, coming to hear such original compositions as "You've Got a Lover," "Song on the Radio," "Two Silver Hearts," "Troubles," "Hard to Find a Smile,." and, of course, "Deep in the West."
The band followed Poor David when he opened his larger establishment on Lowest Greenville Avenue in what was formerly a barber college. After the band broke up, Shake and Jack Saunders often returned as a duo, but his appearances in Dallas became less and less frequent and when Shake did play here it was often at a private party, in someone's back yard or at the nice Allgood Cafe.
I never understood why Shake never became a star on the magnitude of a James Taylor. He has just as pleasantly distinctive voice as Taylor's and while Taylor hasn't written a new composition of note in at least 20-30 years, Shake continues to turn out great songs. Not only that, he has teamed with mandolin player Doug Floyd and bassist Mike Roberts to form the best showcase for Shake's music since the days of the Shake Russell-Dana Cooper Band.
I've just received word that Shake and his two musical compadres will be making what I believe will be Shake's very first appearance at the latest incarnation of
Poor David's Pub
in the Cedars on Saturday, March 19. Man, it would be nice to see a lot of the old gang there, people like Paul "Snake" Porter, Diane Ferguson and the other regulars from those days in the late 1970s through the mid-1980s. But I know for sure I will be there. In fact, I can hardly wait.